News
Program enhancement: SmartJointer for MAN and small series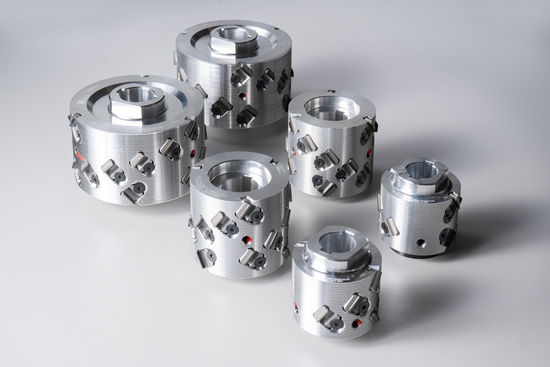 The proven SmartJointer airFace jointing cutter is also now available in small diameters starting at 70 mm. This enables smaller, more compact edge banding machines to benefit from the advantages of exchangeable diamond-tipped segments and a constant diameter even after the knife change.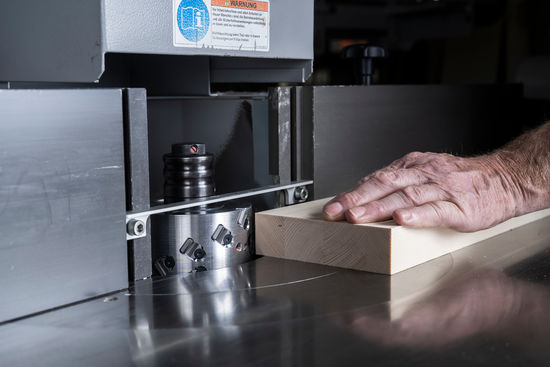 New: Diamond tips for table shapers. The proven LEUCO SmartJointer airFace" jointing cutter equipped with exchangeable diamond-tipped cutting edges is now available for MAN feed.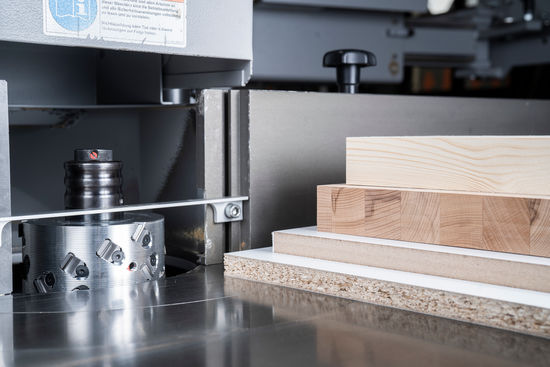 The 35° axis angle enables the diamond-tipped SmartJointer to joint solid wood and wood-based materials without chipping. The diamond tips also mean longer edge lives.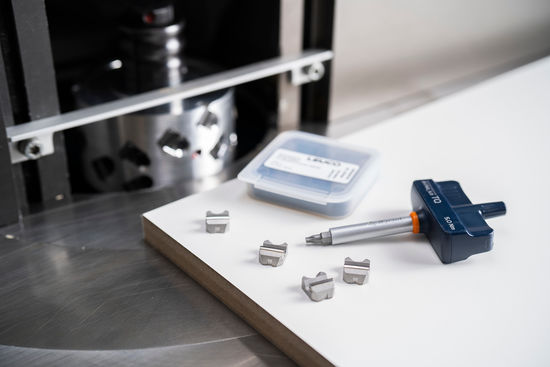 The jointing cutter for MAN feed is available with a 125 mm diameter, a cutting width of 43 mm, and 12 segments or, in an alternative model, with 64 mm and 18 segments. What makes the SmartJointer stand out is the fact that the diameter remains consistent even after replacing the cutting edges so that the machine does not have to be recalibrated or adjusted. Also, potentially damaged or heavily worn cutting edges can be replaced individually in place, thus extending the service life.
Independent cutting edge changing for everyone
The SmartJointer airFace jointing cutter from LEUCO has replaceable segments. Now, it is available in smaller sizes. This gives carpentry shops and users of smaller machine types the ability to replace the diamond-tipped cutting edges by themselves.
LEUCO now offers the SmartJointer airFace jointing cutter in sizes starting at a diameter of 70 mm. This makes it possible to use the tool on various edge banding machines used by tradesmen. Machines from the manufacturers EBM, HOLZ-HER and OTT can now be equipped with these from stock, for instance. The new sizes fit the smaller machine models from these manufacturers.
Supplementing this, effective immediately there is a program for manual feed that is intended for use on various table shapers. The cutting edges can be replaced easily. In addition, quick replacement means that one tool set per machine is enough.
The cutting edges are fixed in place precisely by a 3-point bearing. Consequently, replacement does not require rebalancing and read-justment on the machine. This exact positioning guarantees constant-ly high milling accuracy and diameter consistency.
A further benefit: Segment and gullet form a single unit and are re-placed entirely. As a result, the lightweight aluminum tool body achieves a very long service life and can be used multiple times.
News Overview
Sep 15, 2023
Cutter with Bore , Solutions
Synchronously adjustable with Holtkamp Möbelteile
May 8, 2023
Cutter with Bore , Shank-Type Cutters , Solutions
Solutions 8.5 mm grooves in rear panel:
Grooving cutter and shank-type cutter
Sep 29, 2021
Cutter with Bore , Shank-Type Cutters , Circular Saw Blades , Clamping Systems , Turnover Knives, Inserts, Knives , Hoggers , LEUCO News
LEUCO review, LIGNA.Innovation Network 2021
Nov 6, 2020
Cutter with Bore , Solutions
Finger joints with best wood SCHNEIDER
Quality and service life improved
Sep 8, 2020
Cutter with Bore , Tool News
LEUCO DIAMAX AirStream with HSK 32R clamping
May 29, 2020
Cutter with Bore , Shank-Type Cutters , Solutions
LEUCO p-System cutters for Austrian top furnitures from Voglauer
Mar 19, 2020
Cutter with Bore , Shank-Type Cutters , Solutions
LEUCO p-System mills inclined profiles
in MDF
To the archive