News
LEUCO p-System cutters for Austrian top furnitures from Voglauer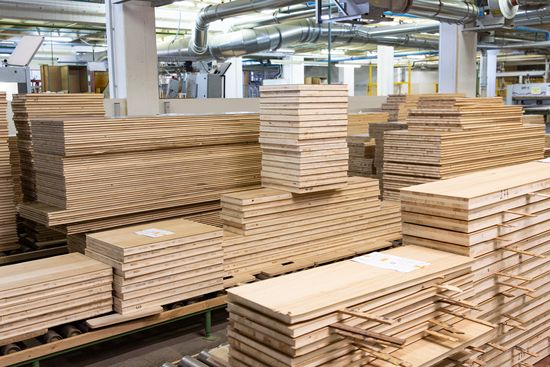 Production at Voglauer also regularly involves small lot sizes in a wide variety of materials and material thicknesses. With the LEUCO p-System, even veneered parts with a veneer overhang are joined and milled in through-feed and stationary machines.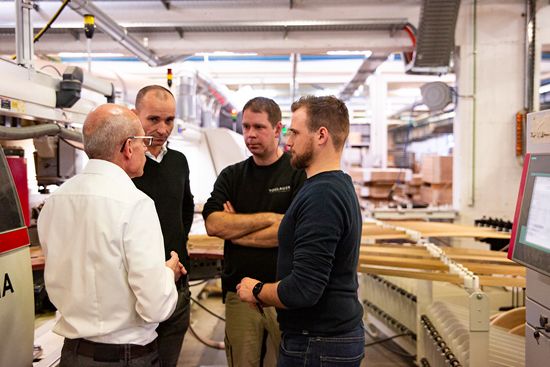 Martin Schrittwieser (Production Manager at Voglauer, 2nd from left) uses the LEUCO p-System, since he can process many materials with high quality and corresponding edge lives, thereby eliminating tool locations. Roman Edelhofer (LEUCO, left) discussing how the most varied requirements can be met with minimum expense by using flexible tools.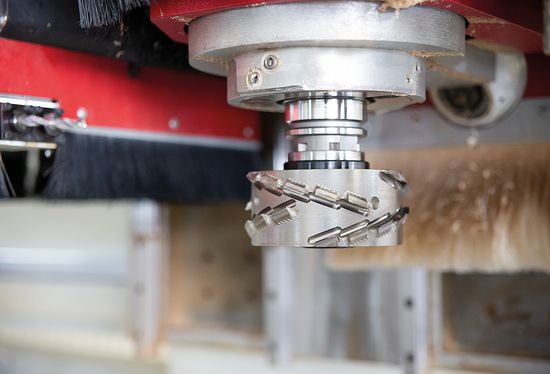 For many years, Voglauer has used LEUCO p-System cutters economically on CNC machines.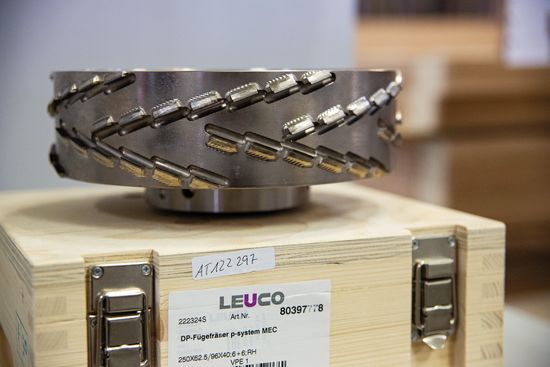 It was now the logical consequence to integrate LEUCO p-System tools with a 70 degree shear angle on the new line.
On a new production line, the furniture manufacturer Voglauer processes a wide variety of materials: from wood core plywood to veneered and decorative chipboard. For this production line, Voglauer relies on LEUCO p-System cutters.
Voglauer has been operating a new production line since 2018. The reason for this investment can be traced to changing requirements for more individuality. The demand for individuality is enormous for hotel interiors in particular.
Versatile tools from LEUCO play an essential role in this concept. In addition to various diamond-tipped hoggers individually designed by LEUCO, Voglauer also uses the patented p-System from LEUCO for joining.
The p-System for all materials at Voglauer
After all, the Austrians have experienced very good results with this diamond-tipped tool system. "We also use the p-System on other machines", stated Martin Schrittwieser, Production Manager at Voglauer in Abtenau near Salzburg. "With the large shear angle of 70 degrees, we achieve high quality in all materials that we process. And we also have an additional benefit: We need fewer tool locations."

The p-System also allows processing of veneered materials in a through-feed with the same quality lengthwise and across the grain. Not an easy job with the different fiber structures. However, it is possible with the p-System.

The p-System tools cut knife-sharp edges with extremely low cutting pressure. In the through-feed machine at Voglauer, the cutters achieve above-average edge lives, which in turn eliminates setup time for tool changes.

News Overview
Sep 15, 2023
Cutter with Bore , Solutions
Synchronously adjustable with Holtkamp Möbelteile
May 8, 2023
Cutter with Bore , Shank-Type Cutters , Solutions
Solutions 8.5 mm grooves in rear panel:
Grooving cutter and shank-type cutter
Sep 29, 2021
Cutter with Bore , Shank-Type Cutters , Circular Saw Blades , Clamping Systems , Turnover Knives, Inserts, Knives , Hoggers , LEUCO News
LEUCO review, LIGNA.Innovation Network 2021
Feb 2, 2021
Cutter with Bore , Tool News
Program enhancement: SmartJointer for MAN and small series
Nov 6, 2020
Cutter with Bore , Solutions
Finger joints with best wood SCHNEIDER
Quality and service life improved
Sep 8, 2020
Cutter with Bore , Tool News
LEUCO DIAMAX AirStream with HSK 32R clamping
Mar 19, 2020
Cutter with Bore , Shank-Type Cutters , Solutions
LEUCO p-System mills inclined profiles
in MDF
To the archive