News
F/LIST from Austria processes sophisticated materials for exclusive interior fittings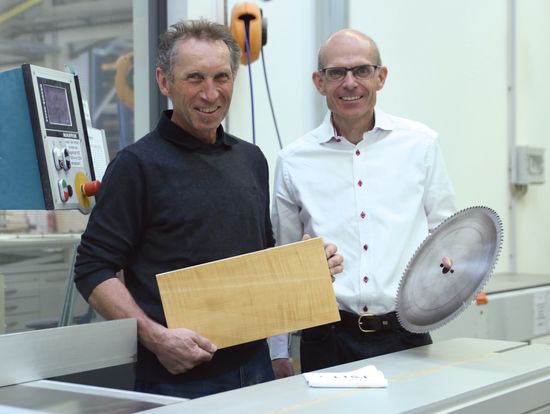 F/LIST uses the LEUCO DIAREX circular saw blade and DP panel sizing saw blade – on various materials including highly abrasive blown glass slabs. Franz Hausmann (left) is head of the pre-production department at F/LIST. Roman Edelhofer, Key Account Manager at LEUCO.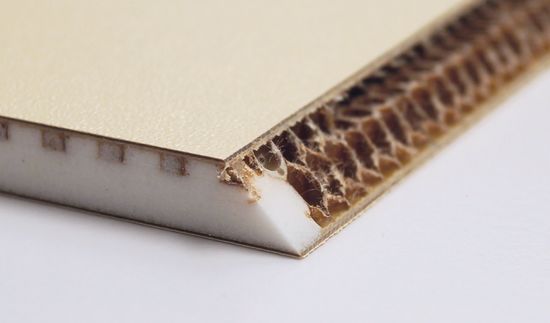 Miter cut of HPL top layers, center layer with honeycomb, two-component edge filling after the curing process: F/LIST also uses the LEUCO DIAREX saw blade for this.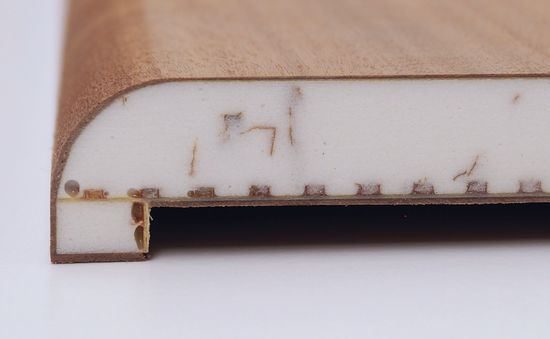 Veneered top layer and 2C edge filling, milled cleanly and without tears with the LEUCO p-System in a TRIBOS clamping fixture.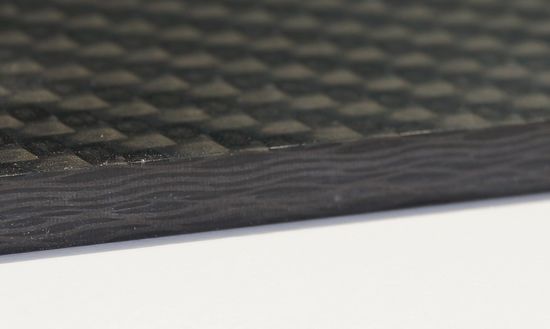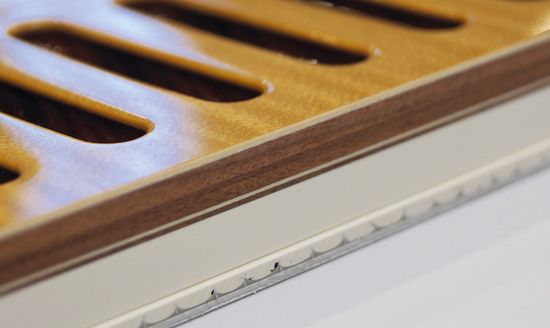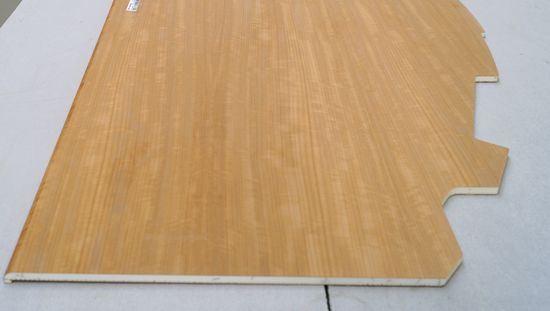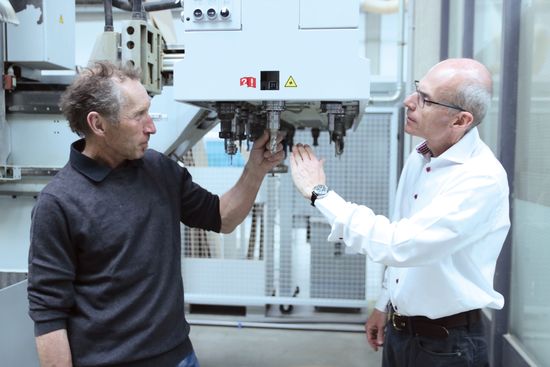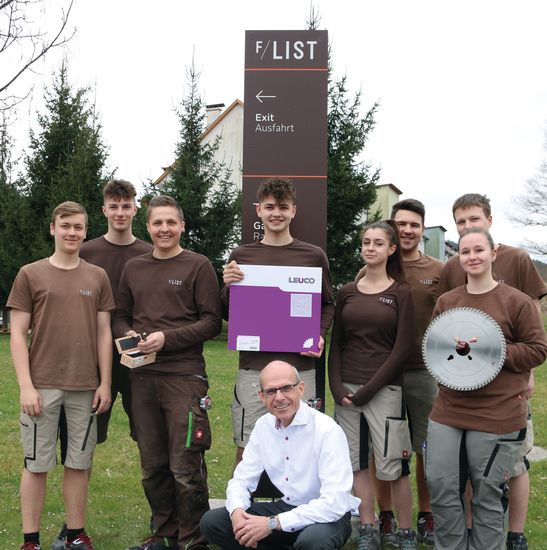 LEUCO trains apprentices at F/LIST
The F/LIST GmbH is a worldwide operating company for exclusive interior fittings of business jets, yachts and residences. The company based in Thomasberg, Austria has more than 800 employees and has been offering since 1950 all services, including manufacturing and installation, from one single source.
As one of the main suppliers of tools for the processing of wood and plastic materials, LEUCO is the preferred partner of F/LIST.

The use of non-standard materials can be problematic: often they are expensive and difficult to obtain.

Therefore, F/LIST cannot afford to produce scrap. But this must not affect the economic efficiency...
..."It is a balancing act," says Franz Hausmann "The p-System offers us a lot of possibilities. We can go to the limits". He is referring to the unique shear angle of the patented tool from LEUCO which sets new standards. An angle of unprecedented 70 degrees offers an exceptionally wide range of processing solutions adapted to the requirements even if a great variety of materials are to be processed. For this revolutionary tool technologies, LEUCO was honored with the German Innovation Award 2018.
What is more important for Franz Hausmann: "The tool alone, however, is not crucial. We need the professional advice of LEUCO so that we are always able to set highlights in our furnishing production even in the future." One thing is certain: Not only the number of special surfaces produced by F/LIST will continue to grow.
Up to 300 different special surfaces in a single project

F/LIST is able to realize a lot of extraordinary designs...
F/LIST is able to realize a lot of extraordinary designs. Up to 300 different special surfaces can be produced for only one single project. The surfaces are often provided with highly sensitive varnishing. Therefore, F/LIST must not only buy a large variety of unusual materials, it must also be able to process them.
Franz Hausmann, pre-production department manager, who has been working at F/LIST for almost 20 years questions how the problem is supposed to be solved. "We have a lot of experience and try things out but for this, we need first-class tools." For more than 25 years, these tools have been delivered by LEUCO Among the delivered tools there are circular saw blades for panel sizing and table saws, jointing cutters for sizing on edge banding machines as well as cutting out and sizing tools on CNC machines. Diamond tips are a matter of course – and rather the rule than an exception with regard to the extremely high demands of F/LIST.
The range of products of LEUCO includes a wide range of up-to-date and innovative tools which can meet nearly all requirements. Regardless of whether homogeneous materials, fiber reinforced plastics or special composites have to be processed or whether there are extreme application conditions: LEUCO helps to achieve the desired quality, a high productivity and economic efficiency.
"We're always faced with incredible challenges, such as fire safety requirements."

Architects are more akin to artists than down-to-earth designers when it comes to the exquisite appointment of interiors...
...One such example is to demand that concrete and film should belong together - entailing the need for them to be processed together as well.
Franz Hausmann, always a practical man, has this to add: "We accept this, but we have always had to engage in combat with incredible challenges". One of the greatest of those is fire protection. In buildings, it is always a mandatory stipulation. On yachts, it is not a formal compliance requirement until the vessel exceeds 100 meters - 330 feet - in length.
Franz Hausmann still has an accurate recollection of a "Super worst-case scenario": A composite material consisting of a mineral fiber slab, a highly-compressed (HP) laminate, a brittle oak veneer and a high-sheen lacquer finish. There was no latitude whatsoever over the choice of material, and this mineral-based slab was required for fire protection. To work with this, a miter edge first had to be produced. A seriously intricate task.

Nonetheless, Roman Edelhofer, a technical adviser from LEUCO, was confident of his ground: "LEUCO doesn't believe in 'Can't be done'. We always get a result here". And so it proved to be. On the LEUCO testing ground in Horb, various tools were tested and an appropriate set of application data was devised. This even involved choosing a different machine configuration. A genuine team effort that was crowned with success on this occasion yet again.
"For us, the LEUCO Test Center is a guarantee of quality"

Manufacturers provide processing instructions for new materials. When it comes to the extremely demanding requirements of F/LIST, those instructions are not always helpful and there is no time for experimentation...
...That is why companies tend to send materials of this kind to the LEUCO Test Center. There, highly specialized experts work with these original sample slabs until they have discovered the best possible processing solution. There is nothing unusual about that process involving changes being made to the tool design.
Franz Hausmann knows what that means: "For us, the LEUCO Test Center is a guarantee of quality". Not only for F/LIST because, just like with standard tools, everything is documented very precisely. Interested users can obtain information about LEUCO recommendations for tools and application data on the website at www.leuco.com.

F/LIST site in Canada relies on LEUCO tools

Since customers wish to have coordinated turnkey solutions, LEUCO also has very precise clamping equipment in its product range...
...F/LIST uses the LEUCO TRIBOS family of products right across the board. Just recently, the company location in Canada has also been able to benefit from the remarkably precise concentricity of this clamping equipment. Accordingly,

F/LIST is progressing confidently down this same path: Wherever and however it may be needed, demanding customers receive nothing less than the highest level of quality. With this motto, this family-owned Austrian company has built itself an outstanding reputation both at home and around the world.

LEUCO trains apprentices at F/LIST

It's all about quality - right from Day One. At F/LIST, even its apprentices experience this in a very special way indeed. Because they also receive training from LEUCO...
...They learn that a lot of expertise is involved in tackling the wide variety of materials used in their company. On location, in theory and in practice. In particular, the use of diamond-tipped tools is an acquired skill. These tools are so "sensitive" that you have to develop a special sense for them. Once that skill has been acquired, these tools reward the operator with impeccable performance.

Website F/LIST
News Overview
Sep 15, 2023
Cutter with Bore , Solutions
Synchronously adjustable with Holtkamp Möbelteile
May 8, 2023
Cutter with Bore , Shank-Type Cutters , Solutions
Solutions 8.5 mm grooves in rear panel:
Grooving cutter and shank-type cutter
Dec 6, 2021
Shank-Type Cutters , Clamping Systems , Solutions
Nesting of solid core panels: Application data and tips
Feb 18, 2021
Boring Bits , Shank-Type Cutters , Solutions
LEUCO Tool Alternatives for the New LAMELLO® Cabineo Connector
Dec 4, 2020
Shank-Type Cutters , Solutions
Holzmanufaktur Schlanke produces Advent calendars with LEUCO cutters
Nov 6, 2020
Cutter with Bore , Solutions
Finger joints with best wood SCHNEIDER
Quality and service life improved
Aug 20, 2020
Boring Bits , Shank-Type Cutters , Circular Saw Blades , Solutions
Milling, drilling, sawing of plastics: tools and application data
May 29, 2020
Cutter with Bore , Shank-Type Cutters , Solutions
LEUCO p-System cutters for Austrian top furnitures from Voglauer
To the archive