News
LEUCO Honored with Two Innovation Awards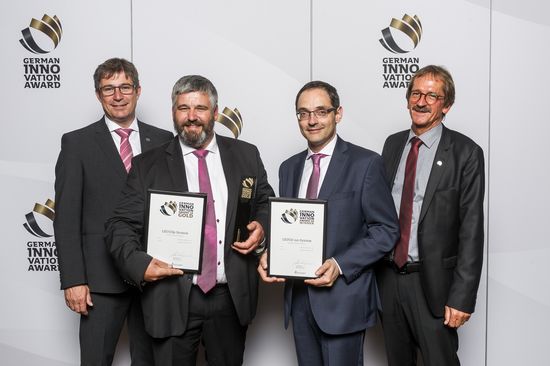 With two German Innovation Awards, LEUCO's power of innovation has now been clearly noticed. During the festive celebration held on June 6, 2018 in Berlin's Technology Museum, LEUCO received an award for both the "LEUCO p-System" cutter and for the "LEUCO nn-System" circular saw blade, highlighting the tools' degree of innovation in the wood processing industry. The awards were received in Berlin by (from left to right) Daniel Schrenk (LEUCO managing director for Sales and Marketing), Dr. Martin Dressler (head of Research / Business Field Development and main developer of the LEUCO p-Systems), Dr. Dominique Fendeleur (head of Research & Development for saw blades and main developer of the LEUCO nn-System) and Frank Diez (CEO of LEUCO and chairman of the Management Board).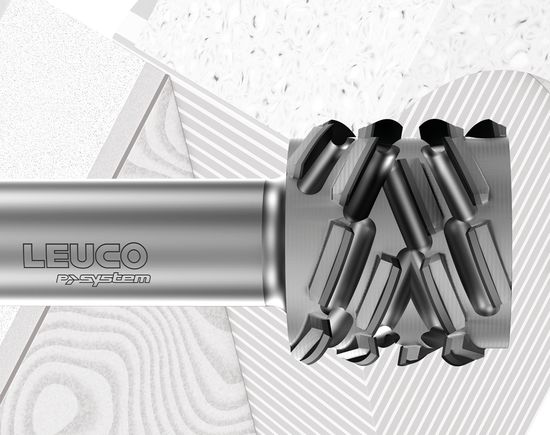 For LEUCO p-System tools, the diamond-tipped blades are arranged at an axis angle of normally 70°, the wedge angle is greatly reduced. A technologically ingenious system that has made a name for itself in the industry and has made LEUCO a trend-setting company," is the reason the jury gave for its decision.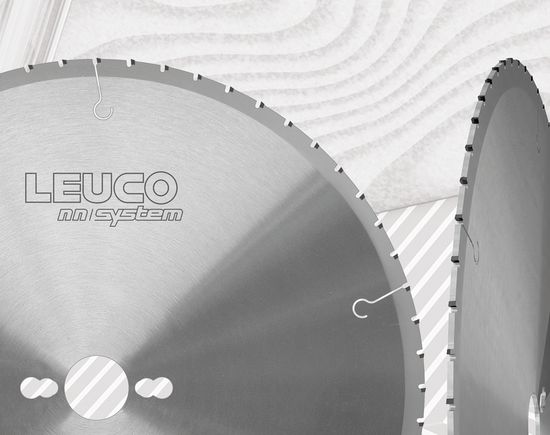 LEUCO nn-System is a diamond-tipped circular saw blade with small gullets. The technology, for which a patent has been filed for, considerably reduces noise in idle mode and during use. Due to the high demand for saw blades, this innovation is very important in the industry.
German Innovation Awards go to p-System and no noise saw blade
Happy news for LEUCO: In June 2018, as part of the festive gala held in the Technology Museum in Berlin, the winners of the German Innovation Award were honored, for the first time, in front of more than 250 invited guests from business, politics and the media.

On this evening, LEUCO received two awards in the "Excellence in Business to Business (B2B)" category in the "Machines & Engineering" field, one for its innovative "LEUCO p-System" wood processing cutter and the other for the diamond-tipped saw blade "LEUCO nn-System."

Since its founding over 60 years ago, LEUCO has stood for innovative tools for the wood and plastics processing industry. With over 230 industrial property rights, LEUCO has repeatedly set standards in its industry since 1954. "Coming home with not one but two awards given out by a top-class, industry-neutral jury at the German Innovation Awards Ceremony confirms our power of innovation," explains the LEUCO CEO Frank Diez with a broad smile. "With approx. 1,200 employees worldwide, LEUCO is a traditional, medium-sized global company that places great value on successful research and development," adds Diez.

The innovative tools were developed and are being produced at the LEUCO Horb am Neckar and Beinheim (Alsace/France) locations. In modern production facilities, an innovative machine fleet and highly skilled workers ensure high production quality. With both tool innovations, LEUCO has reached enthusiastic customers worldwide in the wood processing and manufacturing industry.
German Innovation Award
With the German Innovation Award the German Design Council has closed a gap in the award landscape. Wanted are innovative products with economic success. 650 companies submitted applications for the award, among them industry giants along with hidden champions and start-ups. They all have one thing in common: A solution, a detailed innovative product or a service that creates true added value.
How it was judged
The assessment criteria of the German Innovation Award cover factors such as level of innovation, user benefit and cost-effectiveness. The innovation strategy should take into account factors such as social, ecological, economic sustainability and the use of energy and resources. Other factors, such as location and employment potential, longevity, market maturity, technical quality and function, materiality and synergy effects all play a decisive role in the assessment process. A jury made up of top-class judge decided on a winner.
Related links
News Overview
Sep 15, 2023
Cutter with Bore , Solutions
Synchronously adjustable with Holtkamp Möbelteile
Aug 25, 2023
LEUCO News
25 Years Jubilee - A significant milestone for LEUCO Malaysia
Jun 2, 2023
LEUCO News
LIGNA 2023, review and thanks to our guests
May 11, 2023
LEUCO News
Customer magazine "LEUCOline Highlights 2023": Innovations & tool news
May 8, 2023
Cutter with Bore , Shank-Type Cutters , Solutions
Solutions 8.5 mm grooves in rear panel:
Grooving cutter and shank-type cutter
May 4, 2023
Shank-Type Cutters , Tool News
DIACURVE: Novel nesting cutter
Perfect cut, easy to handle
Jul 28, 2022
LEUCO News
LEUCO at the Holz-Handwerk 2022. Thank you for your visit.
Jul 1, 2022
Boring Bits , Shank-Type Cutters , Tool News
A tool for every application, flexibility as standard
To the archive