News
LEUCO receives German Innovation Award for AirStream System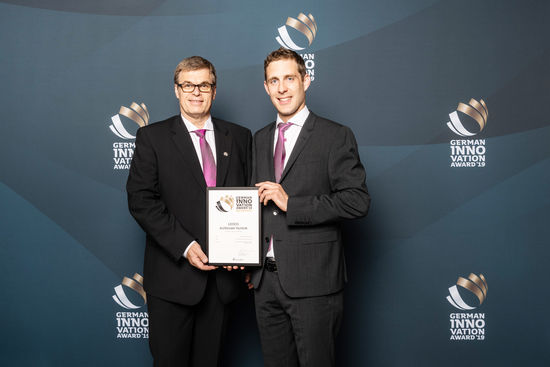 Ewald Westfal (LEUCO Technology Manager, left) and Benjamin Sitzler (developer of the AirStream system) received the WINNER award for the innovative "AirStream" chip guiding concept at a festive gala at the end of May in the Berlin Museum of Technology.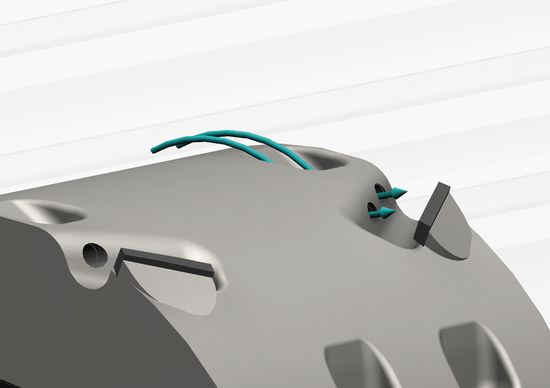 The AirStream-System is characterized by its targeted, intelligent guidance of the resulting chips in the direction of extraction. During the milling process, the air flow is deliberately directed around the rotating tool in order to direct the chips directly to the extraction unit. The advantage for the user is that 99 percent of the chips are extracted, i.e. the machine remains clean and virtually does not have to be cleaned. The fact that the chips are removed from the machining zone immediately after they are generated by the extraction system means that the tool life of the milling cutter is longer, as the cutting edges do not have to perform unnecessary double cutting work. The targeted guidance of the air flow results in less uncontrolled air turbulence, and the tool is pleasantly quiet for the user when in use.
LEUCO received the WINNER award at the German Innovation Awards for its "LEUCO AirStream" milling system.


The disposal of chips is a classic challenge in woodworking. Constructive solutions to tools for targeted chip guidance have to a certain extent been available for some time in the industry, especially in the furniture industry. "The patented AirStream-System was inspired by the scoops of sports cars. Transferring the design to woodworking tools was a new tricky and exciting task that has never before been applied in this way," reports Benjamin Sitzler, developer of the AirStream-System at LEUCO.

In the category "Excellence in Business to Business", section "Machines & Engineering", the AirStream system solution convinced. The jury praised the new constructive solution as well as the approach of the milling cutter design. "It is important that, for the first time in history, smaller and medium-sized companies also benefit from a design solution for chip removal thanks to the AirStream-System, because the tools are used on machines from Holzher," adds Ewald Westfal, Head of Technology at LEUCO.

Another award
LEUCO's tool innovations "LEUCO p-System" and "LEUCO nn-System" were also awarded a German Innovation in 2018. With over 1,200 employees worldwide, LEUCO is a classic medium-sized company and has attached great importance to successful research and development since its foundation in 1954.

 
German Innovation Award
This year 695 submissions competed for the award, including industry giants as well as hidden champions and start-ups. They all have one thing in common: a solution, a detail innovation or a service that creates real added value. The prize is awarded to innovations that have a lasting effect. The German Innovation Award does not merely honour innovations, but those that demonstrably generate added value for the user.

 
News Overview
Sep 15, 2023
Cutter with Bore , Solutions
Synchronously adjustable with Holtkamp Möbelteile
Aug 25, 2023
LEUCO News
25 Years Jubilee - A significant milestone for LEUCO Malaysia
Jun 2, 2023
LEUCO News
LIGNA 2023, review and thanks to our guests
May 11, 2023
LEUCO News
Customer magazine "LEUCOline Highlights 2023": Innovations & tool news
May 8, 2023
Cutter with Bore , Shank-Type Cutters , Solutions
Solutions 8.5 mm grooves in rear panel:
Grooving cutter and shank-type cutter
May 4, 2023
Shank-Type Cutters , Tool News
DIACURVE: Novel nesting cutter
Perfect cut, easy to handle
Jul 28, 2022
LEUCO News
LEUCO at the Holz-Handwerk 2022. Thank you for your visit.
Jul 1, 2022
Boring Bits , Shank-Type Cutters , Tool News
A tool for every application, flexibility as standard
To the archive